Important Dates
April 17th-Easter Picnic. See your child's teacher for more information.
April 18th- Good Friday-CLOSED
May 28th-Memorial Day-CLOSED
Trinity Child Care has been "Caring and Sharing Jesus with Children" in Copperas Cove for 30 years! During that time, we have built a facility where children are taught the basics and given a solid foundation academically and spiritually. We are proud to have a customer base that spans multiple generations. Our great service is passed down from one family member to the next so that children who once attended our center are now customers with their own child enrolled. We look forward to serving you and your family as well.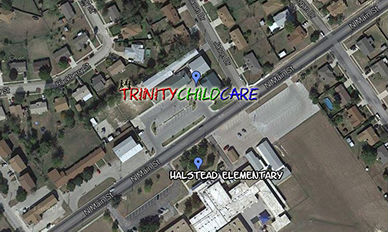 We encourage everyone to come and visit our facility before making a decision. No appointment is necessary. However, if you would like to talk with the office about the best time to visit on any particular day, do not hesitate to call! Office hours are Monday-Friday 8:30am-5:30pm.
1115 N Main St
Copperas Cove, TX 76522
Copyright 2013 Trinity Child Care